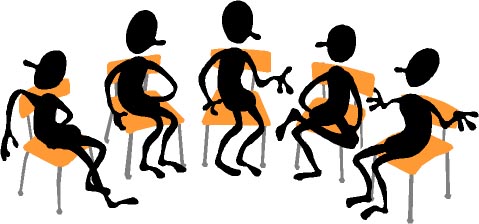 The meeting was called to order by our chair, Gail Jack, at 6:30 pm.
Our gathering commenced with a special observance presented by Stella Moreno, acting chair of the board of the Diversity Center Santa Cruz County, regarding the tragedy the previous Sunday morning in Orlando. Ms Moreno spoke eloquently, visibly moving the attendees with her oration, including declaring that she doesn't have time for "a moment of silence", not in the face of the wave of hate against the LGBTQ community. She described the broad spectrum of gay and straight folk in the Pulse nightclub, and said, "America was in that room." Ms Moreno concluded her brief comments exhorting us to "Don't go numb; don't be silent."
Introductions were made around the room.
A presentation was made by a representative of the Watsonville High School Dream Club, which works to support Dreamers, persons who came to the U.S. without documentation while they were children, to complete high school and to proceed to higher education, by fund raising to supply scholarships. Glen Schaller moved and Diane Cohan seconded for PDC to donate $250 to the cause. Motion passed. Plus, attendees passed the hat raising more money for the Dreamers bringing the total donation to $550.
Guest of Honor Assemblymember Mark Stone then spoke at length, both from opening thoughts and in interaction with attendees, about the following topics:
Transparency in the Coastal Commission
Mental health services delivery
Sexually exploited children - that they be regarded as victims, not perpetrators
Fracking, the natural gas pipe system leaks, polluters being subject to ongoing fines per day rather than one fine for polluting.
More child care slots, and the awareness that child care can be an educational opportunity
State Earned Income Tax Credit - we are not spending all the money set aside for this and need to improve making it work for all eligible people.
K-14 spending
State funding of the legal system/courts/access to justice
Alzheimers - identify and address early symptoms, serve the caring family
An allocation of $400,000,000 for low income housing was added to the state budget with a measure requiring government entities to have an inclusionary building ordinance. (see below: Gov. Brown's Proposed Legislation re Affordable Housing)
No place like Home - seeking rapid rehousing of mental health challenged homeless folk
AB2844 BDS was sanitized to not look like an anti-Israel bill.

Complicated result of modifications can be seen at http://leginfo.legislature.ca.gov/faces/billNavClient.xhtml?bill_id=201520160AB2844
Assemblymember Stone supports organic agriculture - both for our health and the health of the soil and water
Disclose Act - efforts continue to get it to a public vote.

There is a challenge because independent expenditures are different from campaign funding regulations.
The legislature can and does hold hearings on proposed ballot measures that reach 255 of the required signatures.
The meeting was adjourned at 8:00 pm.
Use rich text editor Multiple item entry (Return separates items)