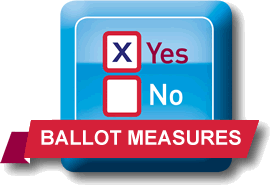 A 2014 law gives the Legislature a role in examining an initiative after 25 percent of the signatures needed for its qualification have been gathered. That could mean the measure's political backers have weeks, or even months, to prompt lawmakers to take action on their own. And unlike now, where an initiative cannot be pulled back once backers submit voter signatures to elections officials, the new law allows supporters of a proposed proposition to scuttle it at any point before those signatures are fully counted and the measure actually qualifies for the ballot.
Read the full article at: http://ww2.kqed.org/news/2014/09/27/big-changes-to-california-initiative-process-signed-by-jerry-brown/
1704. (15-0043, Amdt. #1) Property Tax Surcharge to Fund Poverty Reduction Programs. Initiative Constitutional Amendment and Statute. Imposes additional surcharge on real property with an assessed value of over $3 million. Surcharge based on a sliding scale ranging from three-tenths of one percent for real property assessed at $3 million to eight-tenths of one percent for real property assessed at $10 million or more. Allocates revenue to numerous programs for the purpose of reducing poverty Increased state revenues annually through 2036-37?estimated between $6 billion and $7 billion in 2017-18
1728. (15-0066) Death Penalty. Initiative Statute. Repeals death penalty as maximum punishment for persons found guilty of murder and replaces it with life imprisonment without possibility of parole. Applies retroactively to persons already sentenced to death. Net reduction in state and local government costs of potentially around $150 million annually within a few years due to the elimination of the death penalty.
1762. (15-0103) Marijuana Legalization. Initiative Statute. Legalizes marijuana and hemp under state law. Designates state agencies to license and regulate marijuana industry. Imposes state excise tax on retail sales of marijuana equal to 15% of sales price, and state cultivation taxes on marijuana of $9.25 per ounce of flowers and $2.75 per ounce of leaves. Exempts medical marijuana from some taxation. Net reduced costs ranging from tens of millions of dollars to potentially exceeding $100 million annually to state and local governments related to enforcing certain marijuana-related offenses,
1729. (15-0068A2) Campaign Finance. Donor Disclosure. Initiative Constitutional Amendment and Statute.
Requires corporations and nonprofit organizations that spend $50,000 or more on political activities in California to disclose their $10,000 donors, including where donations passed through other entities. Requires that a political campaign's advertisements disclose its top three donors contributing $50,000 or more. Expands Secretary of State's online campaign finance database. Extends bar against former legislators lobbying Legislature or state agencies to 24 months. Increased costs to state and local governments to administer state campaign finance and disclosure laws. These costs include (1) one-time costs?possibly tens of millions of dollars?to state and local governments to develop new information technology systems and (2) ongoing costs to state and local governments of possibly millions of dollars each year. These costs would be offset to some extent by higher fines.
1756. (15-0098A1) Firearms. Ammunition Sales. Initiative Statute. Prohibits possession of large-capacity ammunition magazines, and requires their disposal by sale to dealer, destruction, or removal from state. Requires most individuals to pass background check and obtain Department of Justice authorization to purchase ammunition. Increase in court and law enforcement costs, not likely to exceed the tens of millions of dollars annually, related to removing firearms from prohibited persons as part of court sentencing proceedings.
1742. (15-0083A1) Legislature. Legislation and Proceedings. Initiative Constitutional Amendment and Statute.
Charles T. Munger, Jr. and Sam Blakeslee Prohibits Legislature from passing any bill unless it has been in print and published on the Internet for at least 72 hours before the vote, except in cases of public emergency. Requires the Legislature to make audiovisual recordings of all its proceedings, except closed session proceedings, and post them on the Internet. Increased costs to state government of potentially $1 million to $2 million initially and about $1 million annually for making additional legislative proceedings available in audiovisual form on the Internet.
1734. (15-0074) Carry-Out Bags. Charges. Initiative Statute. Redirects money collected by grocery and certain other retail stores through sale of carry-out bags, whenever any state law bans free distribution of a particular kind of carry-out bag and mandates the sale of any other kind of carry-out bag. Requires stores to deposit bag sale proceeds into a special fund administered by the Wildlife Conservation Board to support specified categories of environmental projects. Provides for Board to develop regulations implementing law. Summary of estimate by Legislative Analyst and Director of Finance of fiscal impact on state and local government: If voters uphold the state's current carryout bag law, redirected revenues from retailers to the state, potentially in the several tens of millions of dollars annually. Revenues would be used for grants for certain environmental and natural resources purposes. If voters reject the state's current carryout bag law, likely minor fiscal effects.
1741. (15-0081A1) Cigarette Tax to Fund Healthcare, Tobacco Use Prevention, Research, and Law Enforcement. Initiative Constitutional Amendment and Statute. Increases cigarette tax by $2.00 per pack, with equivalent increase on other tobacco products and electronic cigarettes containing nicotine. Allocates revenues primarily to increase funding for existing healthcare programs; also for tobacco use prevention/control programs, Net increase in excise tax revenues in the range of $1.1 billion to $1.6 billion annually by 2017-18, with revenues decreasing slightly in subsequent years.
1764. (15-0105A1) Minimum Wage. Increases and Future Adjustments. Paid Sick Leave. Initiative Statute.
Annually increases minimum wage paid by employers with 26 or more employees until it reaches $15.00 per hour on July 1, 2020. For employers with 25 or fewer employees, annually increases minimum wage until it reaches $15.00 per hour on July 1, 2021. Thereafter, adjusts minimum wage annually based on prior year's rate of inflation, using California Consumer Price Index for Urban Wage Earners and Clerical Workers. Increases minimum amount of annual paid sick leave employees can earn and may use from three to six days. Effective January 1, 2018, applies minimum sick leave provisions to in-home supportive services providers. Summary of estimate by Legislative Analyst and Director of Finance of fiscal impact on state and local government: Change in annual state and local tax revenues potentially ranging from a loss of hundreds of millions of dollars to a gain of over $1 billion. Changes in state revenues would affect required state budget reserves, debt payments, and funding for schools and community colleges. Net increase in state and local government spending totaling billions of dollars per year. Cost increases, primarily for government employees and home care providers, would be offset in part by savings from lower enrollment in health and social services programs. (15-0105.)
1747. (15-0096) Death Penalty. Procedures. Initiative Statute. Changes procedures governing state court appeals and petitions challenging death penalty convictions and sentences. Designates superior court for initial petitions and limits successive petitions. Imposes time limits on state court death penalty review. Requires appointed attorneys who take noncapital appeals to accept death penalty appeals. Exempts prison officials from existing regulation process for developing execution methods. Authorizes death row inmate transfers among California state prisons. States death row inmates must work and pay victim restitution. States other voter approved measures related to death penalty are null and void if this measure receives more affirmative votes. Increased state costs that could be in the tens of millions of dollars annually for several years related to direct appeals and habeas corpus proceedings, with the fiscal impact on such costs being unknown in the longer run. Potential state correctional savings that could be in the tens of millions of dollars annually.
1773. (15-0115A1) Tax Extension to Fund Education and Healthcare. Initiative Constitutional Amendment.
Extends by twelve years the temporary personal income tax increases enacted in 2012 on earnings over $250,000 (for single filers; over $500,000 for joint filers; over $340,000 for heads of household). Allocates these tax revenues 89% to K-12 schools and 11% to California Community Colleges. Allocates up to $2 billion per year in certain years for healthcare programs. Bars use of education revenues for administrative costs, but provides local school governing boards discretion to decide, in open meetings and subject to annual audit, how revenues are to be spent. Increased state revenues annually from 2019 through 2030?likely in the $5 billion to $11 billion range initially?with amounts varying based on stock market and economic trends. Increased revenues would be allocated under constitutional formulas to schools and community colleges, budget reserves and debt payments, and health programs, with remaining funds available for these or other state purposes. (15-0115.)
1770. (15-0111) Hospitals. Executive Compensation. Initiative Statute. Prohibits hospitals, hospital groups, hospital-affiliated medical foundations and physicians groups, and health care districts from paying annual compensation (salary, perks, paid time off, bonuses, stock options, etc.) or providing severance packages to executives, managers, and administrators in an amount exceeding the salary and expense allowance of the President of the United States (currently $450,000). Requires annual public disclosure of all executives receiving compensation or severance packages above this amount. Authorizes Attorney General monitoring and enforcement or taxpayer litigation. Penalties for violation include fines, revocation of tax-exempt status, and appointment of Attorney General representative to board of directors of nonprofit corporations. State administrative costs in the low millions of dollars annually to enforce the measure, with authority to recover costs through fees assessed on specified hospitals.
Use rich text editor Multiple item entry (Return separates items)