Please Join Us at the Collateral Damage Statue for A Coming Together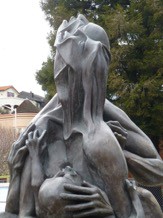 70 years ago, the United States dropped nuclear bombs on Hiroshima and Nagasaki in Japan.
Today, in a time of increasing tensions between the U.S., its NATO allies, and Russia, there are nearly 16,000 nuclear weapons, 94% held by the U.S. and Russia. The two sides are brandishing nuclear weapons on the borders of the Ukraine, posing an intolerable threat to humanity and the global environment.
On Sunday, August 2nd, starting at 6 pm, we will hold a Coming Together next to this Statue at the Town Clock Park in downtown Santa Cruz to say: No to Nuclear Weapons, No to War!
We will begin the evening with a brushing, waxing and buffing of the Collateral Damage Statue. Starting at 6:30, Aileen Vance, Gail Swain, Louis LaFortune, Russell Brutsche, Victor Aguiar, the Raging Grannies and others will share their music with us. The music will be followed by a quiet candlelight circle during which all participants are invited to offer short personal reflections, songs and poems.
Let us recommit ourselves to a world without nuclear weapons and without war.
Please bring symbols for peace, flowers, candles in containers, and chairs.
For more actions you can take now, please go to http://www.unitedforpeace.org/2015/07/08/peace-and-planet-summer-call- to-action/
Also watch a video of the August 2011 vigil at www.youtube.com/watch?v=hAVUKu5dUgc
For more information, contact Mathilde Rand, randomsantacruz@gmail.com 475-2411 or Barbara Riverwoman, river@cruzio.com, 454-0252.
Use rich text editor Multiple item entry (Return separates items)